After their great success with the Chili, MrTeal and ChipGeek came back with a bigger, faster, hotter and generally more ambitious board, the Habanero.
Based on Hashfast's Golden Nonce chip, this is the second time they've worked this excellent trick: take a chip from an existing manufacturer who has fallen out of favor for being unable to deliver hardware on time combined with terrible communication, then design and build in just a few weeks a faster and more reliable machine based on the same raw chips, maintain clear communication with your customers throughout the process and then deliver an excellent product exactly on time.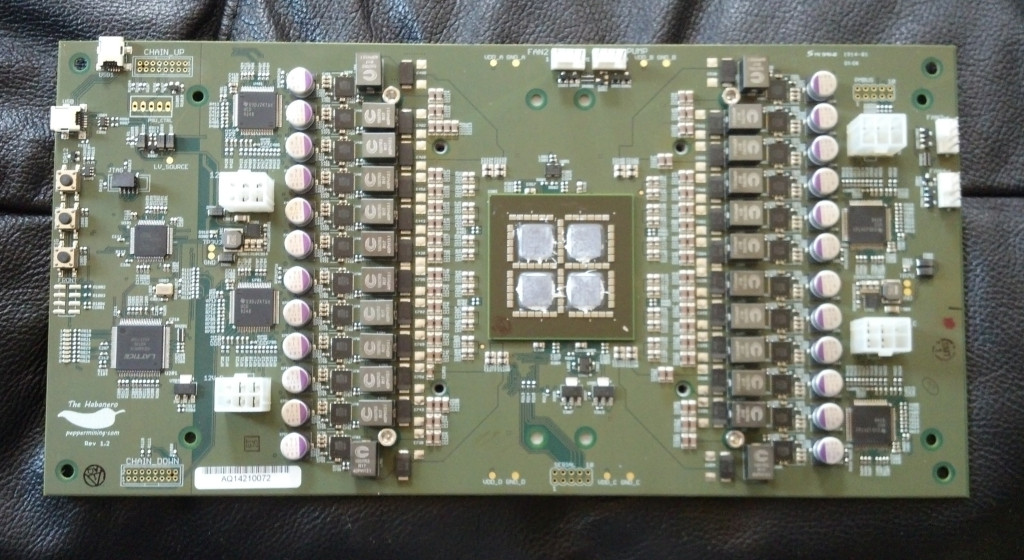 This is exactly what they did with the Chili at the end of 2013, producing a fast, reliable board based on Butterfly Lab's 65nm chip. The boards pulled 20-30% more performance out of the chips, and unlike BFL's own convoluted 4-fan, multi-piece tubular frame and multi-panel case construction, the Chili was dead simple, just a one-piece board for the user to apply whatever cooling solution they liked, add power and go.
When HashFast announced their 28nm Golden Nonce chip in July 2013, they promised 400GH/s per chip and delivery starting in October 2013. They even promised refunds in BTC if they failed to meet their goals, and a Miner Protection Program to automatically add hashrate to orders in the event of any delays. In an all too familiar story, though, they missed all their deadlines, shipping didn't get underway until 2014 and even then only proceeded at an agonizingly slow trickle.  As mining difficulty skyrocketed and their customers were faced with the prospect of massive losses, refunds and protection plans were not honored and communication from the company evaporated . They were granted Chapter 11 bankruptcy protection on June 7, 2014.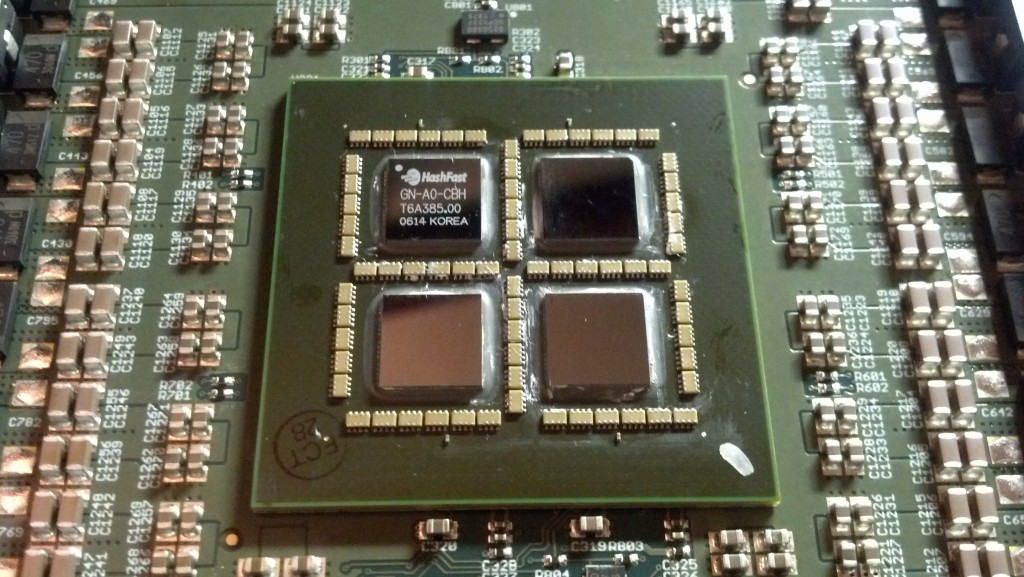 But the chip was brilliant. Why let it go to waste? Capable of being run far above the target speeds and still being in the neighborhood of 1W/GH/s, MrTeal, ChipGeek and Gateway rolled out a new website at PepperMining.com, announced their Golden Nonce-based project as the Habanero in March, opened orders at the beginning of May and shipped by the end of the month.
These beasts are spectacular.  Mine run reliably at 850MHz which produces 630-640GH/s each, but others have clocked them higher and achieved speeds of 700GH/s+.
Moving 500+ watts of heat off a single chip begs for liquid cooling, something I'd never ventured into before. Figuring I'd err on the side of caution, I opted for a triple-wide radiator which fits three 120mm fans along its length. So far, the stock fans seem to be doing fine, keeping the boards at 87-91° C and still being nearly silent.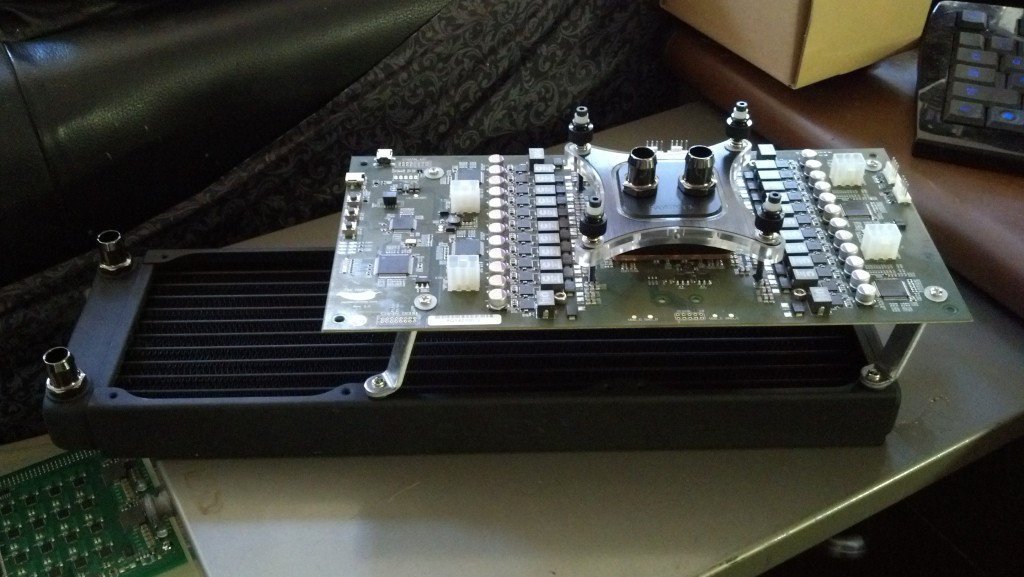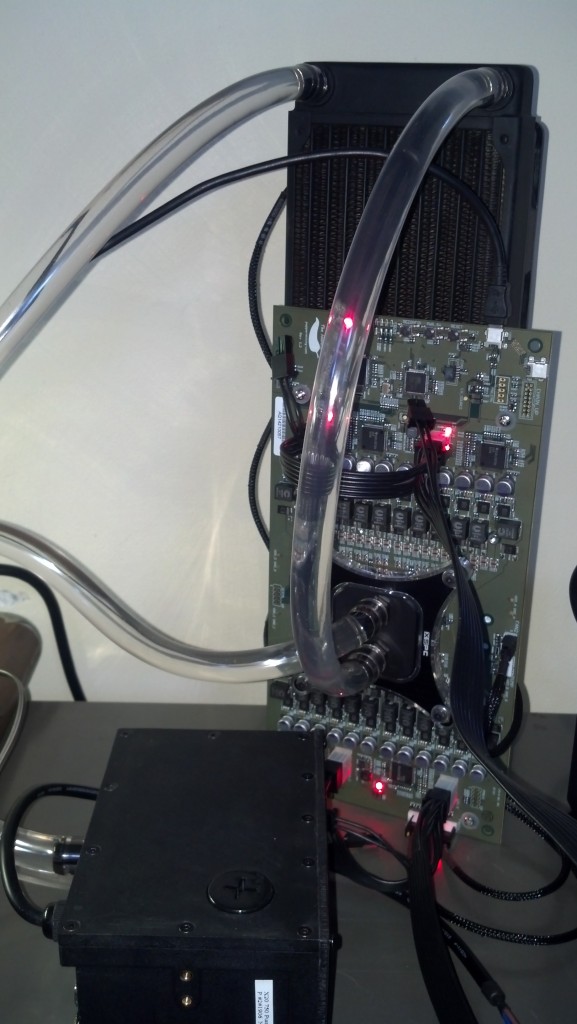 The backs of the boards come braced with an aluminum heatsink with prethreaded mounting holes, so the board is protected from flex as you torque down the screws of whichever water block you chose.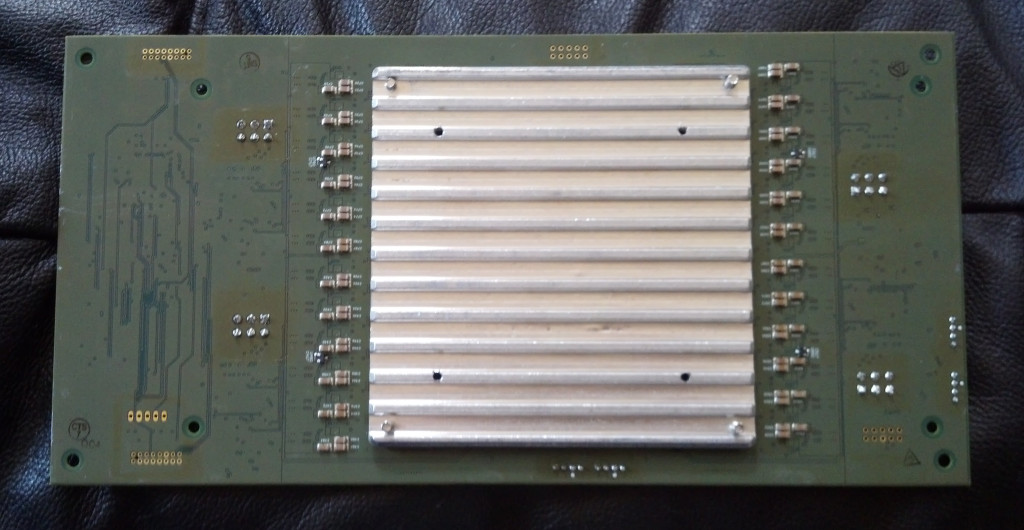 Pepper Mining has released their own program, as well, in order to display the temperatures, voltage and frequency on each of the four dies individually in so as to facilitate fine-tuning.
That's a key part of the fun with these: they're not just designed to be fast, they're designed for us to play with them, to push and tweak and customize them depending on our gear, our ambition and our particular comfort with risk.
And that is just about everything fun about mining, cooked with spice into one project.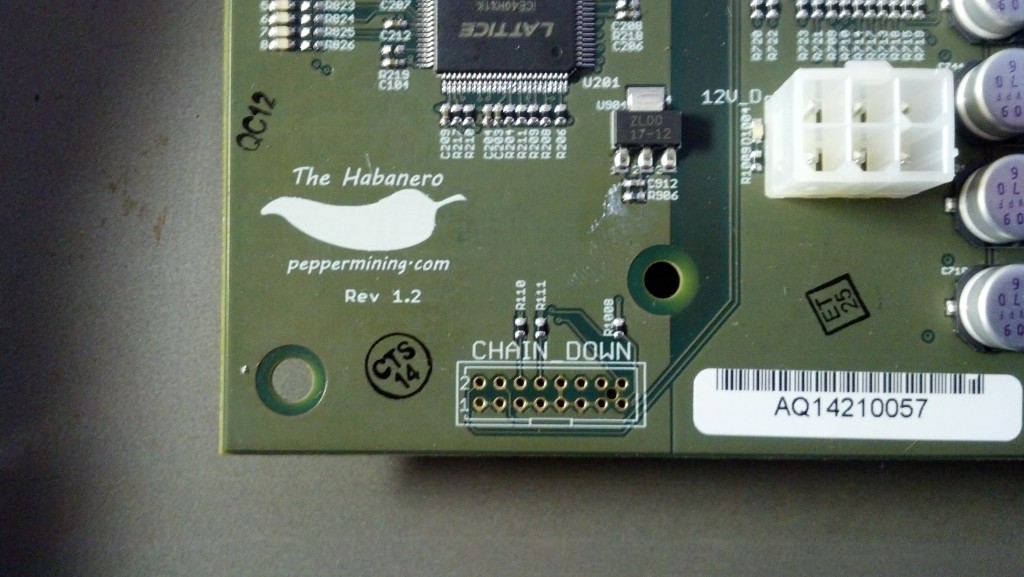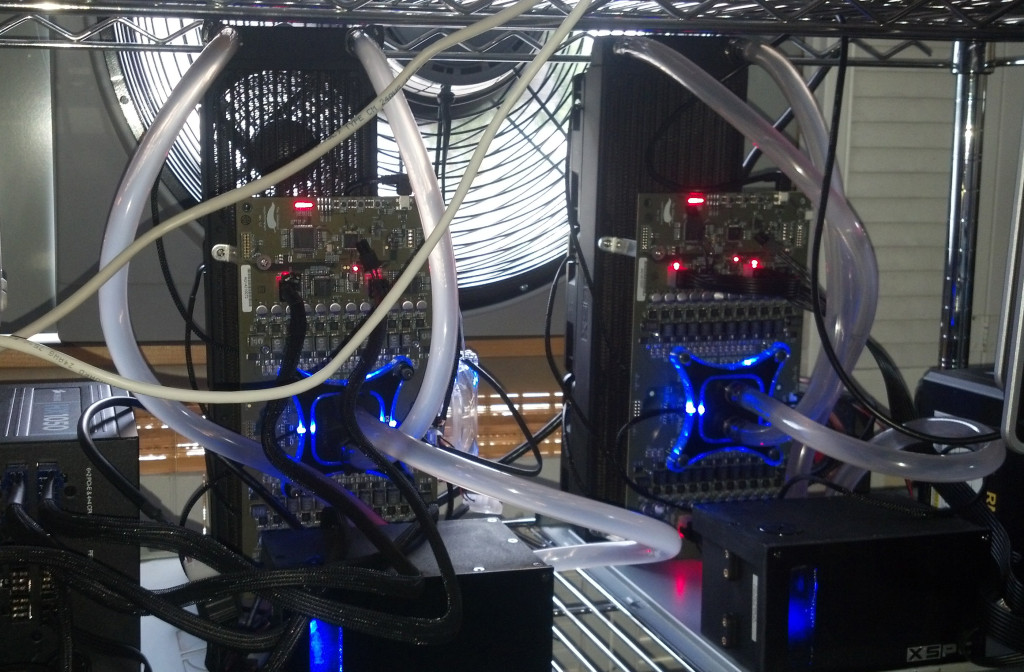 No tips yet.
Be the first to tip!
Like this post? Tip me with bitcoin!
1P2tLUwYB2iQ5TfBtRCS6UJtqBx7SZfrjG
Tips are welcomed! Each post gets its own unique Bitcoin address, so by tipping you're not only doing a cool thing, you're also telling me what you liked. Or, just tip Mr. Pig.