I received a sample set of Avalon generation-3 chips today, something which I felt both delighted and slightly guilty about. They were giving them away for free on the Avalon website, but obviously they were meant for developers. It's hard to resist free, though.
They're only 1/4-inch across,  20 tiny, feather-light chips in a little plastic box, bundled in bubble wrap, each one designated A3233-Q48 and capable of 7 GH/s each at 5.3 watts, according to the official specs.
But they needed a home, so I messaged marto74 of Technobit.eu to see how his new Avalon generation-3 board was coming along and if he'd take my chips. He said he hadn't been able to test his design yet, as he hadn't received his own sample chips yet, so my next stop was at the UPS store to arrange fast shipment to Bulgaria. Hopefully my chips will get there quickly and be of some use. I would be very glad to have helped in some small way with the development of a new mining board.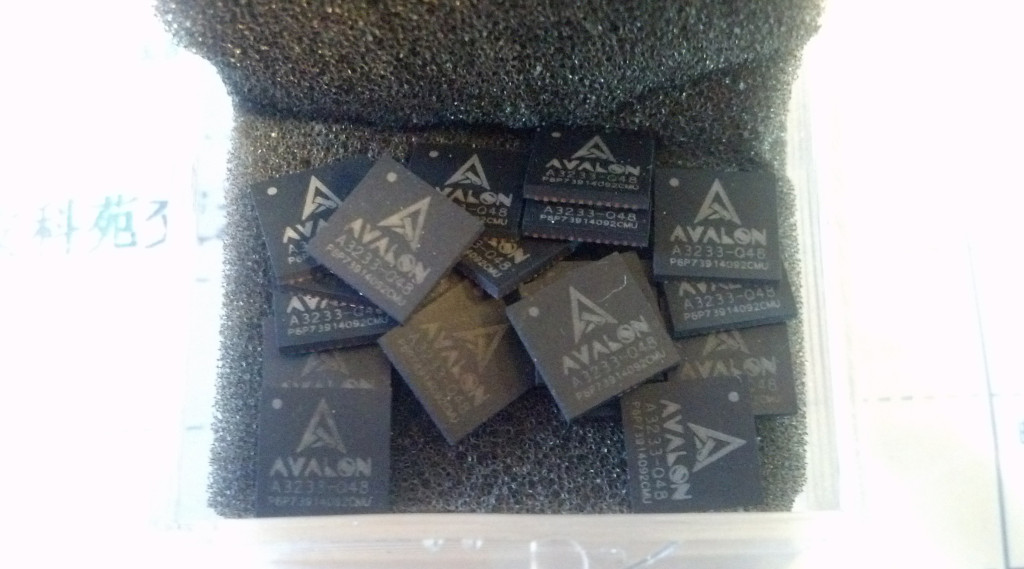 No tips yet.
Be the first to tip!
Like this post? Tip me with bitcoin!
15xd1d2Zr6vSHGLEej1kd8ocoM52yV3BW8
Tips are welcomed! Each post gets its own unique Bitcoin address, so by tipping you're not only doing a cool thing, you're also telling me what you liked. Or, just tip Mr. Pig.